How to Clean Invisalign
Are Invisalign Better Than Braces?
Invisalign is a modern orthodontic treatment that allows people to straighten their teeth without having to go through the ordeal of getting braces. While both braces and Invisalign have their place in treating crooked teeth and misaligned jaws, Invisalign is often cheaper and more convenient—and the good news about Invisalign retainers is that they're also easier to keep clean compared to braces!
If you've just recently been fitted with a set of Invisalign retainers, you've taken an exciting step toward achieving the smile of your dreams. Now that you've got them though, it's really important that you stay on top of cleaning them. In this post, we'll talk about what you should do to keep them clean and also why you need to.
Do I Need to Clean My Invisalign Retainers?
Once you start your Invisalign treatment, you'll have each set of retainers for approximately 1-2 weeks before swapping them out for new ones. While this might not seem like a long time, it's still long enough for your retainers to become discoloured if they aren't being properly maintained, making them less invisible and even unsightly. Keeping your breath fresh will also be a struggle if you're not cleaning your retainers consistently.
The reason for this discoloration and odour is because bacteria can collect on your retainers just like it does on your teeth, and you'll need to deal with those bacteria in order to keep your retainers looking good and your mouth healthy. Significant bacterial buildup can negatively affect your teeth and gums, potentially even leading to gum disease, so you don't want to take any chances. We want to ensure that we see the best result for your orthodontic treatment, and keeping your Invisalign aligners clean will ensure that progress is not hampered.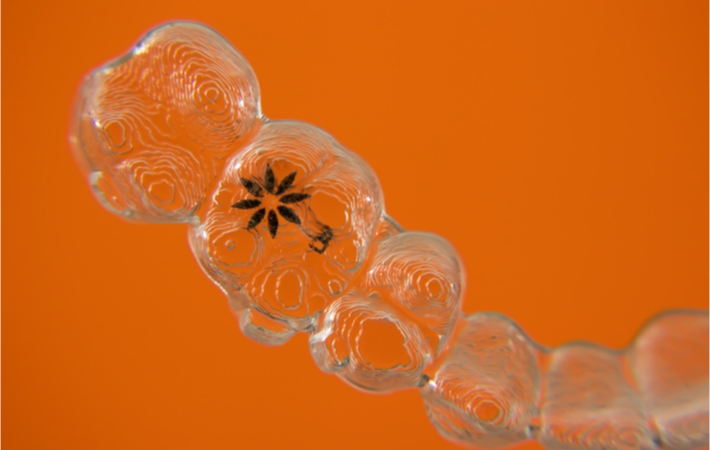 How to Clean Invisalign: Multiple Ways
There are actually a few ways to clean your Invisalign aligners and they all achieve pretty much the same results. Remember, the main thing you want to do is keep your Invisaligns crystal clear and smelling fresh, and to do this you'll need to clean them twice a day.
The first way you can clean your retainers is with a soft-bristle brush and some dish soap. You won't need much, so don't overload them, but a few drops accompanied by some gentle brushing followed by a rinse will keep your retainers squeaky clean. A good way to gauge the pressure needed is to pretend that you are polishing a tomato. It is recommended to avoid hard pressure to ensure no damage is done to your aligners.
Another way to clean your retainers is to soak them in a cleaning solution for about 15 minutes. You can use a variety of agents you can use to do this, including hydrogen peroxide, denture cleanser, Invisalign crystals, or even vinegar. Make sure you thoroughly rinse your aligners after using any kind of cleaning solution.
In conclusion, clean your Invisalign twice a day with dish soap and a toothbrush or by soaking them in one of the above-listed cleaning solutions.
What Not to Do
Although it might be the first thing you think to use, toothpaste is actually not designed for Invisalign, and can in fact damage your aligners. You should only use toothpaste on your teeth.
The other thing you should never use when cleaning your retainers is coloured mouthwash. This can also stain your aligners and should be avoided.
Lastly, remember not to use hot water to brush or soak your aligners, as they are made of thermoplastic material (plastic that becomes malleable when heated) and hot water can warp the shape of your retainers. Lukewarm water will work just fine for cleaning. If the water feels comfortable on your hands, then then the temperature is just right.
Get Invisalign
Have questions about Invisalign? Upper Gage Dental Centre is here to help. Dentists are the only experts you can trust when it comes to getting the smile you want. Book an appointment at Upper Gage today to see if you're a candidate for Invisalign treatment. We'll have you smiling in no time!