We'd like to keep our teeth. Accidents happen! Maybe you were playing hockey, and a tooth got knocked out. Or you had an infected cavity, and the tooth had to be extracted.
Fortunately, dental implants are a standard procedure that can replace your missing tooth and help you regain confidence in your smile. Many people wonder if dental implants are painful, but with local anesthesia, you shouldn't feel anything more than some pressure on your gums.
Dental technology is constantly advancing, and an experienced dentist will help you get through implant surgery as comfortably as they can.
What Are Dental Implants?
Dental implants are permanent metal roots that replace your missing tooth's natural roots. They act as an anchor or post that can hold crowns and bridges in place, improving your smile's appearance and your teeth's effectiveness.
Dental implant surgery typically takes a couple of appointments, beginning with a complete oral health examination. You may be a good candidate for dental implants if you:
Have healthy gums
Have enough jaw bone to support the implant
Are in good overall health
Since you put a lot of pressure on your jaw while you chew, you need a solid bone to support it. It's possible to have a bone graft to prepare your jaw for surgery, but your dentist shouldn't make any choice if it's not the best for you.
Once your dentist finishes the surgery, they'll affix a crown or bridge to the top of the implant that should blend seamlessly with the rest of your natural teeth. Since these implants are anchored directly to your jawbone, they will eventually fuse and become very stable and secure.
What Happens During Dental Implant Surgery?
Dental implants are a long-term solution, but they aren't quick. It begins with an x-ray or scan of your head, jaw, and teeth to ensure you're suitable for dental implants. You'll want to heal up between each stage, meaning surgery can take several months from start to finish.
Your dentist decides you're a suitable candidate, and you want to move ahead with the surgery. Your oral surgeon will ensure you're numbed and comfortable before starting. They'll place the implant directly into your jawbone, beneath your gums, and stitch your gum tissue back together.
This time is vital to ensure you're ready for the next step and give the implant time to bond with your bone. If it doesn't bond, which is rare, you'll have to begin the surgery again.
At the next appointment, your dentist attaches the post to hold the replacement tooth (a crown or a bridge) in place. This post is called an abutment. It's possible that, depending on your situation, your dentist will do these two stages in the same appointment.
After the post and abutment are in place, you'll get a custom-made tooth designed to blend into your smile. It could take a few more appointments to ensure it fits in line with the rest of your teeth. If you're replacing multiple teeth, you may get two implants with a bridge in place.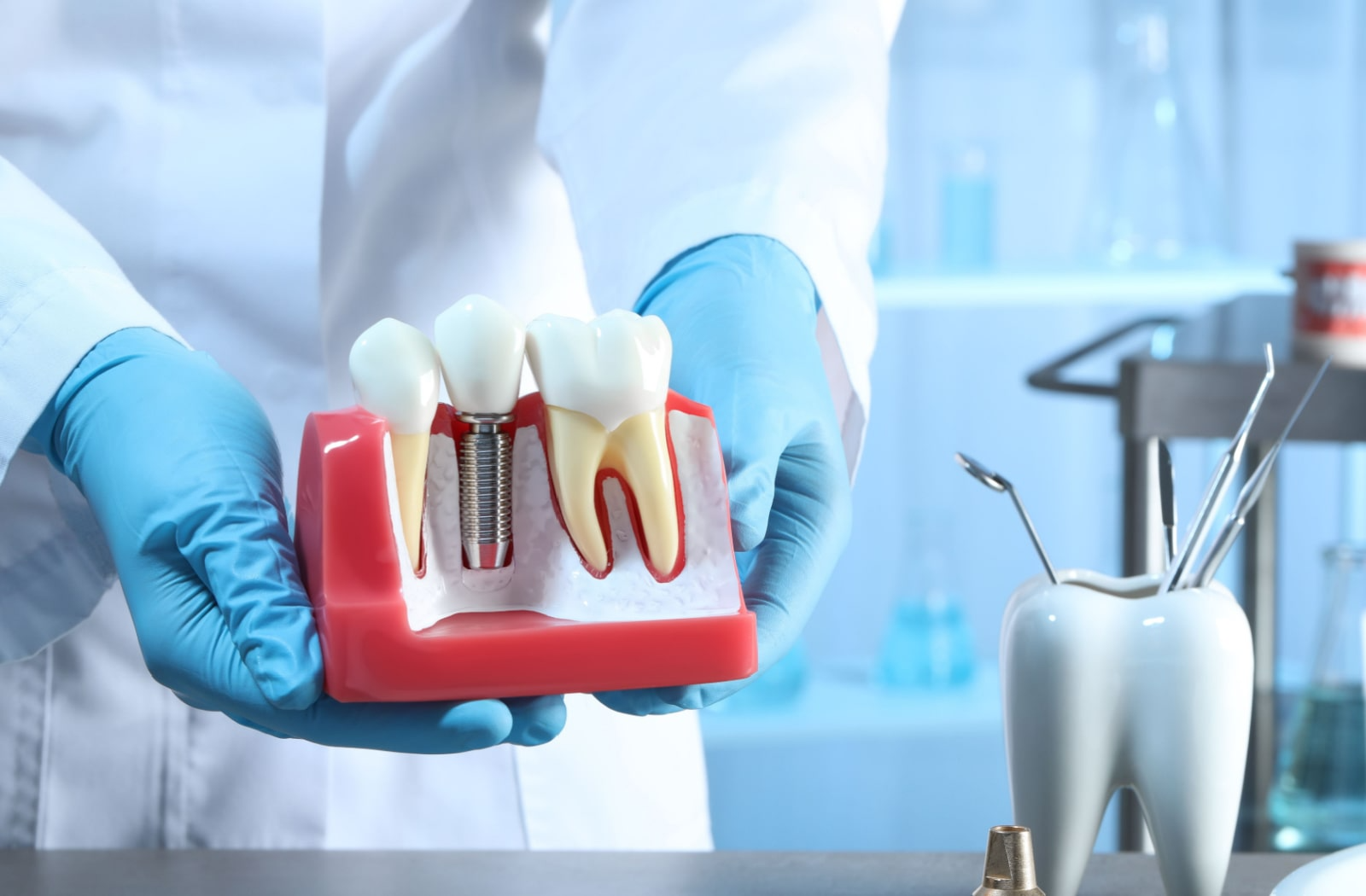 How Do I Care for My Dental Implant?
You might notice some discomfort after any kind of oral surgery. Dental implants aren't any different. Generally, you may experience the following:
Bruising
Swelling
Minor bleeding
Pain around the implant
Your dentist might suggest pain medication after the freezing wears off. You'll probably have the most pain for the first 24–48 hours, so get plenty of rest and eat soft foods while your gums heal.
Your replacement tooth acts just like your other teeth. You'll use it to chew, talk, and keep other teeth from getting out of line. Care for it like you would your natural teeth. Brush your teeth twice a day and floss daily. See your dentist regularly for check-ups so they can ensure there aren't any problems with your implants.
Why Should I Choose Dental Implants?
In general, dental implants have a high success rate. Over 97% for ten years, they may preserve the structure and cause less jawbone in adjacent teeth.
A properly cared-for dental implant and crown can last up to 20 years, potentially saving you money in the long run.
Dental Care with Integrity in Hamilton
Oral surgery can seem daunting, but you can trust Upper Gage Dental Centre to help you. We want to do what's best for you. If that ends up being dental implants, our experienced team will be there the whole way.
If you want to learn more about solutions for your missing teeth, contact us today and regain confidence in your smile!